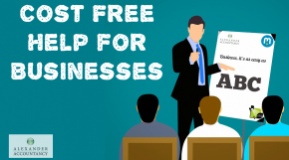 Cost-free help for businesses.
The Staffordshire Chamber of Commerce mentoring team offers free help and support to Staffordshire based businesses from experienced business mentors that have been there and done it. And current enquiries indicate most interest is in growing customer numbers and value. The Alexander's Business Club meeting on 4th April 2019 will showcase the Chamber of Commerce Mentoring Scheme with a presentation on marketing by Chris Rushbrooke, one of the regions mentors.
For any business owner or decision maker who believes they could benefit from expert help this meeting is essential. Alexander's Business Club will introduce you to a team of experts who give their time for free through the Chamber of Commerce Mentoring Scheme. Providing advice on almost any business challenge based on their own personal experiences of overcoming the same challenges and sharing the expertise and insights they have gained in doing so.
Why not benefit from some free help and support?
We meet from 5.30pm in the Tom Bradbury Lounge at the Pirelli Stadium, a top-quality venue and home of Burton Albion, with a hot and cold buffet available from 6.00pm. The main presentation begins around 6.45pm for about an hour, followed by a Q&A open forum.
Alexander's Business Club is sponsored by Alexander Accountancy and Midweb Services and is open to all local businesses. Even if you are not based in Staffordshire the mentoring team will still be happy to offer advice on the night.
This event is in partnership with The Staffordshire Chamber of Commerce Mentoring Scheme which can provide free practical help and advice on most business topics to businesses throughout Staffordshire.