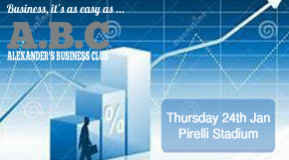 Alexander's Business Club on 24th January 2019 is offering delegates the opportunity to get practical help and advice to develop their businesses and take them to the next level, from people who have been there and done it.
For any business owner or decision maker wanting to progress, this meeting will help you find the best way forward. Most challenges in business tend to revolve around sales, human resources or time management; although we do know there are other hurdles to overcome. Alexander's Business Club will introduce you to a team of experts that give their time for free through the Chamber of Commerce Mentoring Scheme. Providing advice on almost any business challenge based on their own personal experiences of overcoming the same challenges, and willing to share the expertise and insights they have gained in doing so.
Whilst this first meeting will mainly focus on sales, we will also cover any other subjects thrown up during the evening. Replacing problems with challenges and obstacles with opportunities.
We meet from 5.30pm in the Tom Bradbury Lounge at the Pirelli Stadium in Burton with a hot and cold buffet available from 6.00pm. The main presentation will begin around 6.45pm for about an hour, followed by a Q&A open forum.
Alexander's Business Club is sponsored by Alexander Accountancy and Midweb Services. In 2017 and 2018 we ran a programme of events focussing on how businesses work and how business owners can take control of their own destiny. With most of the delegates at the November 2018 meeting telling us the events had helped them achieve tangible improvements.
To continue this journey the 2019 events are in partnership with The Chamber of Commerce Mentoring Scheme which can provide free practical help and advice that could help delegates continue their progress.
To find out more email david@alexander-accountancy.co.uk, midwebservices@gmail.com or richard.carty@staffordshirechambers.co.uk.
To book on click here