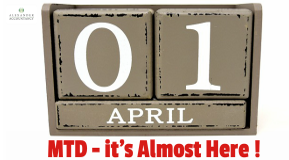 Making Tax Digital is only days away!
From 1st April 2019, nearly all VAT Registered Businesses with a turnover above the £85,000 threshold will have to comply with the new regime.
If your business is VAT Registered and your taxable turnover is £85,000 or more then from 1st April 2019 you will be required to keep digital records and to submit your VAT Returns using compatible software. Remember compliance is mandatory you cannot opt out!
Prepare your own VAT Returns?–If you have not already put the necessary systems in place then you need to do so now. Alexander Accountancy has been alerting clients to the changes and transitioning them on to suitable software for quite some time. If you want our help or advice, please contact us as a matter of urgency.
Alexander Accountancy are MTD compliant.–If we complete the bookkeeping and file the VAT Returns you know you are OK. And whilst many people think they save money by doing things themselves, the real cost in terms of their time, plus the stress, is often a lot higher. For one client the net increase in cost for us to do everything was less than £100 per year.
Still using Manual Records or Spreadsheets?–Then we strongly recommend you take urgent advice. You need to put a solution in place before it is too late. If you are not sure if you are ready and need help, please contact Alexander Accountancy now.
Alexander Accountancy is a Xero partner, but this is not the only solution we can use. Other solutions will be recommended if they are deemed more appropriate.
If you believe Making Tax Digital may affect you and are not sure if you are ready for it, please email info@alexander-accountancy.co.uk or telephone  Burton 01283 743851. We are happy to provide the advice you need, possibly as part of a Free Business Review.