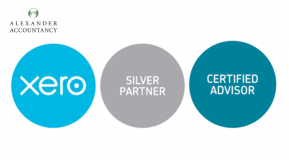 Xero Silver Partners.
 Alexander Accountancy is pleased to announce that this month they have qualified as a Xero Silver Partner. Meaning we have even more resources that can be used for the benefit of our clients.
Another Xero Advisor
In addition we wish to congratulate Tracey Faulkner, a key member of our client support team, on becoming a Certified Xero Advisor. Showing our commitment to giving our clients the expertise they need.
Welcome to Hubdoc
Xero have now acquired Hubdoc as their own data entry portal. This will be developed to allow their subscribers seamless data entry between the two systems all under one roof, a benefit for both agents and clients alike. And something Alexander Accountancy will be offering to their clients.
Making Tax Digital
Xero are also running a series of courses for their partners making sure we are fully versed with the latest developments. Giving Alexander Accountancy another expert resource with what many expect to be some very demanding changes ahead.
Another weapon in our arsenal
Alexander Accountancy don't offer predetermined solutions and always advise all of our clients on an individual basis. However, Xero is proving to be a valuable addition to our resources and a system we are happy to recommend when suitable.
If you want to check that you have the right system in place please telephone Burton upon Trent 01283 743851 or email info@alexander-accountancy.co.uk