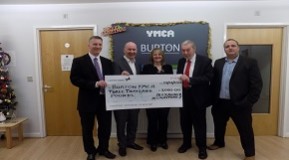 The Charity Quiz Night was organised and sponsored by Alexander Accountancy, the venue was provided by Branston Golf & Country Club, the preliminary round was sponsored by CMC Partners and the event was promoted by Alexander's Business Club, Burton District Chamber of Commerce and Burton Business Club.
However the "WE" in the headline includes every business or individual who bought a ticket for the quiz, donated prizes, bought raffle tickets, bid in the auction or gave their time for free. So a big thank you to everyone for your support.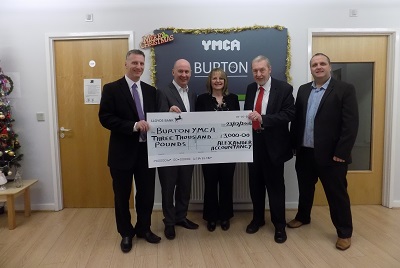 Thanks to the sponsorship every penny raised has been  given to Burton YMCA, collected and delivered in time  for Christmas. From the stories I was privileged to hear  I am certain this will be one small step in building hope  out of despair.
How do Burton YMCA use donations?
The cheque was presented at the Reconnect Centre in Burton on Trent where there are facilities to help the homeless in a number of ways. With food, cleanliness, claiming benefits, seeking work and so many things that so many of us take for granted. The centre also acts as one of the focal points for cross denominational support that is essential in a multicultural town like ours.
For those ready to follow the journey to reconnect with what most of us, rightly or wrongly, would describe as normal there are rooms and flats that allow a steady progression along that route. Plus help to find independent living accommodation back in general society.
Beyond accommodation there is a food bank that provides emergency food parcels that can help in times of extreme or unexpected hardship. It is important to forget the popular image that hardship is down to economics or lifestyles, and remember as well this can be caused by health issues or bereavement that could affect all of us at any time.
Burton YMCA also helps people get the help they are entitled to, but may find difficult to access due to lack of knowledge, poor literacy or mental health issues. They also provide a range of mentoring and counselling too broad to cover adequately in an article of this size.
Some politics
One thing that shocked me was Burton YMCA can no longer help 16 and 17 year olds. Because this group are not adults legislation dictates that there have to be certain care ratios. Funding cuts however mean Burton YMCA can no longer provide support in the required ratios to this age group. With the combined effect that for these younger vulnerable people it is much harder to find the help they need. Is this really the society we want? I think this is where the local business community could help. The government are keen for us to provide young people with work experience and apprenticeships, should we not be demanding the government funds for young people's welfare in return? We have a decent local MP, why don't we all ask him to raise this issue?
Burton YMCA – the family
One of the comments when I visited Burton YMCA was that it feels like a family. I have to agree with that. Everyone I met from Paul and Shirley who showed us around, to the residents who allowed us to see inside their accommodation was warm, welcoming, friendly, and patient. Put simply they felt like the family we would all be comfortable being a part of and I would like to thank them wholeheartedly for welcoming us in to their home.
If you would like to donate or find out how you could help Burton YMCA click on the following link.
http://www.burtonymca.org/donate-burton-ymca 
David Alexander