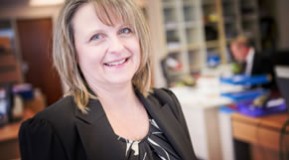 Tracey is currently our payroll manager and is also very involved with client bookkeeping and accounts production functions.
She has 30 years of experience in an office environment, most of which were in accounts departments. Her roles varied from an office junior on leaving school up to office manager.
Tracey enjoys client contact both on the phone and in person. She receives satisfaction in knowing that she has helped someone over and above what is normally expected. One client has said "What would I do without you?" – A sentiment shared by the Alexander Accountancy team.
She feels very lucky to love her job and to be part of a supportive team who are very client focused.
Tracey initially came to us for three weeks holiday cover and is still with us two and a half years later. Her warm and capable demeanour impressed us so much – we offered her a permanent placement.
Family life is very important to Tracey. She adores her gorgeous daughters, Amy and Beth and husband Richard, also a valued employee here at Alexander Accountancy and never gets fed up with seeing him every day.