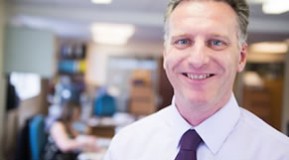 This month we are featuring our trainee accountant Richard Faulkner
Richard's personal passions are mainly golf and the family, but these have been largely put on hold due to his studies. He started studying for his AAT qualifications on a part time basis in October 2013. He joined Alexander Accountancy on a full time basis at the end of March 2015. He is now only three steps away from gaining his academic qualifications after only 2 years. He also has a keen interest in football having played for the Arsenal youth and reserve teams from 1987 to 1992.
Richard has led the way in developing Alexander Accountancy's' own Workplace Pensions solution, helped by him having first hand experience as a financial consultant with the Prudential Insurance Company. The company dedication to client care fits in with his own beliefs of how services should be provided as he is highly motivated by striving toward excellence. The favourite part of his current role is helping clients retain the maximum financial benefits they can for the efforts they put in.
Richard is finding maintaining the quality of client care he wants to achieve at the same time as moving in to the new premises an exciting challenge. He is especially looking forward to having greater involvement with the clients as his career develops.
If you'd like to speak to Richard about how he can help take care of your business finances. Call Alexander's on Burton 01283 743851