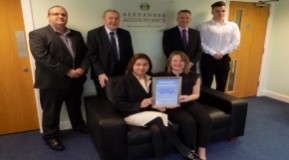 We're proud to announce that this week Alexander Accountancy have been presented with the People's Business Award for services to the community. This is part of the "Get Vocal About Local Burton" campaign being promoted by Burton Small Business and Staffordshire County Council.
Everyone at Alexander Accountancy is thrilled to receive this award in recognition for the way we try to help those around us, believing it supports our belief in doing things the right way.
We would like to thank everyone that took the time to nominate us for their support, particularly as the nominations were made during the festive season when there were plenty of other distractions. We would also like to thank the judging panel:
Elaine Pritchard of Burton Small business
Counsellor Chris Smith, Deputy Mayor of East Staffordshire
Chris Plant, Divisional director of Burton & District and Chase Chamber of Commerce
Wayne Mortiboys, of Staffordshire County Council
And we especially wish to congratulate Calm Yoga Studio who won the main award, together with The Hideaway Tea Room and Summerhouse Bakery for winning the commendations.
We sincerely hope Burton residents will visit and support these businesses together with the many other excellent outlets we have in Burton. We feel it is important to remember that if we are to keep our local businesses it is essential to use them.
I would personaly like to thank all the members of our team who constantly buy in to our philosophy and vision of trying to help not only the people we deal with, but also all those we come in to contact with.
Being recognised for our wider contributions to the local community exemplifies the attitude that is embodied throughout the culture of our business. We always strive to practice caring for those around us by delivering the highest standards of service and support that we can. Doing this in the belief that our positive attitude and energy will be rewarded in the longer term.
So once again I would like to express our gratitude in being given this award and thank everyone for the parts they have played.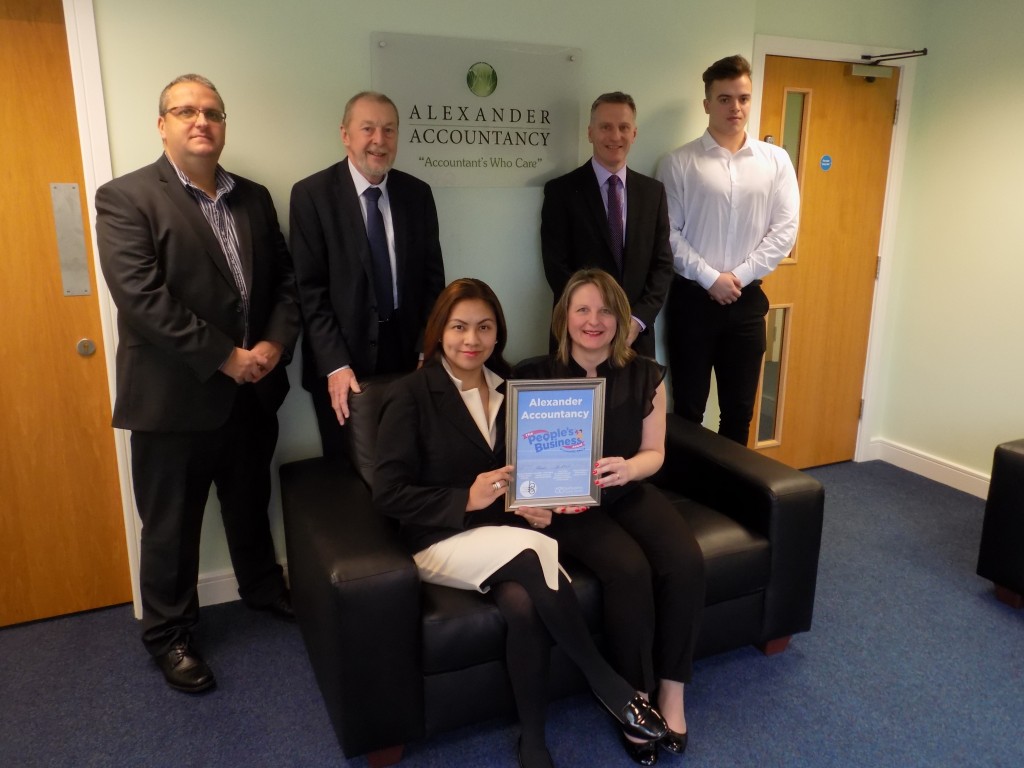 Our contributions to the local Burton upon Trent community
Free Business Reviews
For any business that wishes to take advantage of it, we offer one free business review without the need of being a client or making any commitment to become a client. In these reviews we will look at any aspect of the business we are asked to look at. Traditionally these look at finding new customer, making more profit and paying less tax. We are also more frequently looking at building the right team, growing the business and developing systems & processes. To book a review simply email us at info@alexander-accountancy.co.uk  putting "Business Review" in the subject line.
Free Events
We started doing events in Burton in October 2014 to celebrate 30 years in business. This has since continued on a regular basis and developed in to Alexander's Business Club. The meetings are open to local small businesses, they do not have to be a client or make any commitment to becoming a client in the future. As a response to the need to help people understand how to run a business in 2018 we are running a series of six linked workshops based on what we have learned and how we have achieved 500% growth in seven years. The next event is on Wednesday 17th January 2018, for more details CLICK HERE.
Supporting and Promoting Networking Events
Beyond Alexander's Business Club we share and attend many other events, and always try to give an unbiased view on which events it could be useful to visit. We have a shared GDPR event on Thursday 15th February 2018 CLICK HERE, a shared event for landlords on Wednesday 11th April 2018 and a proposed shared event on exit strategies after that. In addition we help to organise or attend a number of events that include the Burton Business Club, Burton District Chamber of Commerce, Club Albion, Drinks at the Tower Brewery, Else Professional Lunches, Network 9, Network B2B and others.
Charitable Events
For the past two years we have been heavily involved in organising a Charity Quiz Night that has raised funds for Burton YMCA, Newlife the charity for children and Prostate Cancer UK. In addition we have attended, sponsored and supported other local fundraising events, but would especially like to congratulate Mr Husain of APNE India Cuisine for being awarded Parliamentary recognition for the many times he has hosted local charitable events.
Free Chamber of Commerce Mentoring Services
In 2017 we became involved in helping to deliver the Staffordshire Chamber of Commerce mentoring services that are available to members and non-members free of cost. This is a service where the mentors donate their time free of charge, members receive up to 15 hours free support and non-members receive up to 12 hours free support. The team of mentors in Burton includes specialists in Accounts, Business Advice, Online Marketing, Strategic Coaching and other business services.
If you would like more information about any of the above topics, please do not hesitate to get in touch.
Call Burton upon Trent 01283 743851 
Email –  info@alexander-accountancy.co.uk